Follow your passion, as young as three!
Dear Parents,
for young children who are not able yet to take regular lessons on the lunge (the regular lesson last 50 minutes) we offer the "walking with the kid option" , where you walk with your child, during the training.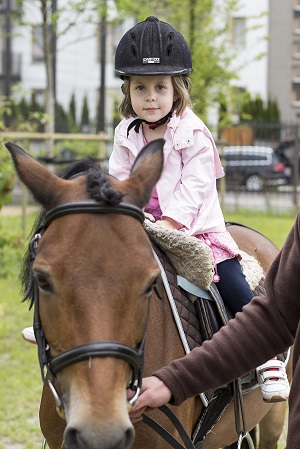 This kind of lessons is especially recommended for the parents who have the riding experience, understand the basic rules and can manage the balance and rhythm drills. Shall you not have such experience it is obligatory to take the individual lessons option where you get the instruction from one of our instructors as long as you feel comfortable with the horse (pony).
In this option you have to prepare the horse before the lesson and take care about the horse after the lesson which is extremely important in the learning process of the small kid (horse care). If you take individual lesson our instructor will help you.
The cost:
individual lesson with the instructor - one hour lesson is PLN 180,-

costs for 10 units - walking (including horse care) with the horse 30 minutes - PLN 1400,- 60 minutes PLN 1600,-
Please note that we cannot provide you insurance and our liability is limited to:
assigning a well trained pony with the proper equipment

providing proper instruction during individual lesson


Your obligations:
you have to sign an agreement with us confirming that you understand the stable regulations

punctuality in appearing for the sessions

settlement of the training fee, via bank transfer prior to the session

both the parent and the child must wear the shoes with the solid shoe shank